After sustaining a career threatening injury, The Architect Seth Rollins redesigns, rebuilds, and reclaims his status as The Man after putting himself through 6 grueling months of intense rehabilitation. Seth Rollins from Buffalo, Iowa is a big Chicago Bears fan. This WWE 24 Special really resonated with me on many levels. Feeling down , acting like your world is crashing down, please check out this documentary on the WWE Network. The previous documentary article, CM Punk's Best in the World, got a lot of positive feedback, so I hope this article brings you the same amount of enjoyment. 
Renee Young: WWE Universe, we have invaded the Prudential Center in New Jersey! You can feel everyone here getting fired up. This is Extreme Rules. It is all about to go down. We've got a sold out house. 
– Seth Rollins arrives at The Prudential Center at 7:05 pm and he's greeted by WWE's Head of Talent Relations, Mark Carrano.
Seth Rollins: Going back in secret and we're on the bus. And, you know, I haven't seen anybody yet really. It feels far away yet for some reason. Like it feels like it's off in the distance. I'm ready. And if I start to think about it, you know, it's weird. I don't go back to like the injury. I go back to like when I was healthy. I just really didn't feel like it was possible for something to go wrong. I just felt invincible, you know. When you're running hard forever, you don't look back. I just do what I do. I just go out and as hard as I can every single night and not thinking twice about it. And you're not invincible 
Seth Rollins Goes Over The Devastating Injury He Suffered During The WWE European Tour: 
First night of the tour, Dublin Ireland, I believe. I'm wrestling Kane in the main event. It's a street fight for the world title. And going for a move I have done a million times where Kane is on the second rope. And I go to Sunset Flip over him. For whatever reason, I just landed on the instep of my right foot. And my right knee just caved in. And I felt a real sharp pain. And my first instinct, as it always has been, is to get up. So i'm standing straight up and I'm putting weight on it and it's cool. So I pick 330-Pound Kane up and wobble out there. Put hum through the table.
I end up somehow hitting a Pedigree on my knee, which at this point I don't know the extent of the injury. I pin him and i'm just laying there as the doctors and trainers come out and were taking a look at it. It seemed okay. So I go to the hospital in Cardiff with The Doc. And we get the MRI done and I go back to the hotel. And I get a call and the doc say you tore your ACL, MCL, and Meniscus. So we're going to send you to Birmingham and get you some surgery as soon as we can. 
Dr. Jeffery Dugas : This is a higher level knee injury. Yes, it's an ACL tear, but it's an ACL Tear with a pretty bad Meniscus Tear, plus a pretty bad MCL Tear through both layers. So definitely on the more sever end of knee ligament injuries. He tolerated the surgery very well. I think he has nearly 100% chance to return to full activity. And the time course of that typically is going to be six plus months. 
Seth Rollins: Day One. Day One. Coming back for the title. I don't give a shit who has that thing, Roman, Cesaro, Barrett, Sheamus, it doesn't matter. I'm coming for it. It's mine. I may not look like a champion right now. Give me a few months. The whole game is gonna change, man. Thought I was doing something special before. You don't even know. 
Michael Cole: What on Earth? Seth Rollins! Rollins Wins The Title! Seth Rollins Wins The Title! 
Lilian Garcia: Here's you winner and the new WWE World Heavyweight Champion, Seth Rollins! 
Seth Rollins On Cashing In His Money In The Bank Briefcase At WrestleMania 31:  It's literally a childhood dream. It's something you thought about for the last 25 years. That's all I ever wanted. To stand there at the end of WrestleMania and hold up the WWE World Heavyweight Championship. 
Michael Cole: Seth Rollins is the WWE World Heavyweight Champion! 
Sami Zayn: Seth has that depth where, yeah, he can do the high risk stuff. But he can also just pound you. He can also grab the microphone and make you hate his guts. Or he can wrestle with such vigor that you can't help, but scream and cheer for him. 
Seth Rollins:  I AM THE MAN !! 
Jerry Lawler: Oh, my god! 
Corey Graves: If you watched him, you slowly appreciated how good he actually was. And you couldn't deny that he was going out there and he was stealing the show every time. 
Kevin Owens: He feels like he's the best and he very well may be the best. And if people don't think he's the best, he's going to do everything he can to prove to them that he's the best. 
Cesaro: If you're a top guy, you just have to deliver. 
Michael Cole: Look at Seth Rollins! 
Jerry Lawler: Are you kidding me? 
Seth Rollins On Redesign, Rebuild and Reclaim : It's a roller coaster out there and I hope they enjoyed it as much as I did. 2015 was an incredible year for me. And having the doubt in your mind that you're not going to be able to make the biggest WrestleMania, you know, I put in all the work to get to this WrestleMania. I carried the torched per se. I'm going to do whatever I have to do to get to that WrestleMania. It just didn't seem fathomable to me that I  would miss out on my WrestleMania. Resign, Rebuild, Reclaim, that was me.
That was just something I kind of off-the-cuff came with like right after I got hurt. That was just the first thing that came to my mind. I don't know why. It was just the way I felt when I knew that I was going to be out for a while. Those were just the first three words that kind of came to me.
My knee was a serious knee injury. Catastrophic for some guys. Sometimes career-ending, especially if you go back a couple of decades. You tear all those things in your knee and you are just not the same. I didn't want to come back doing the same old thing. I thought that would be kind of lame. This is a good opportunity to, like I said, redesign, So here we are, redesigning everything from the ground up. Logo included. So not just knee. 
Kevin Wilk: How's the knee feel? 
Seth Rollins: Ah. It's a little sore there. The first month, you know, it hurts. It hurts. It doesn't want to bend. It doesn't want to straighten. It's swollen. Everything you do sucks. I'm in a brace the whole time. I can't sleep. Can't do anything that I enjoy. I'm literally just miserable the whole time. I go back down to Birmingham and the first day that I'm there, the first thing they have me do I get all warmed up. They have me do some wall sits. 
Kevin Wilk: Keep your head back. Good. Even weight on both sides. Make sure your right. 
Seth Rollins: It was very scary for me because I thought, you know, shoot, there's another few months down the tubes. 
Kevin Wilk: You're going to feel a little bit on the tendon because of that graft there. 
Seth Rollins: It was like a pop and a shock. That's normal? Freaked me out. 
Kevin Wilk: Keep your feet close to the wall. Are you all right? 
Seth Rollins: Yeah. Just freaked me out I think. We're at the first stage of Therapy. Now there's a lot of weird things happening inside that knee capsule that i'm not familiar with. Definitely never-racking and scary in that sense. It's been an interesting day in that way. For better or worse, this is my job now, you know. This is my life. This is what i'm putting in the place of being able to wrestle every night 
– Seth Rollins exits the Ortho Sports Tower.
Seth Rollins: Just feeling drained, man. The emotional toll that this takes. I mean the physical toll is one thing. I can handle that. But the emotional toll, knowing that, you know, on a Friday usually i'm starting my workweek. I'm going on the road with my friends and doing live events in different towns and entertaining fans and performing. Just doing what I love to do knowing that i'm not doing that is frustrating a little bit. The whole process is slow. 
Sami Zayn: I texted Seth and I said I know this isn't what you want to hear now, but this might be the best thing that ever happened to you. Just it's going to suck at first, but a month in you're going to be able to just sit down and breathe. And it's going to be great for you.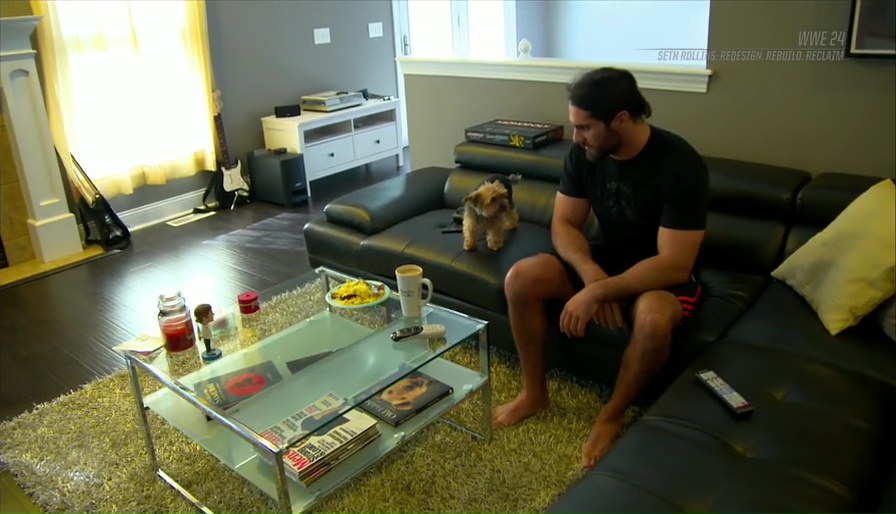 Seth Rollins Talking To His Dog: What? Come here. Get over here. What are you going to do about it, huh? Nothing haha
Seth Rollins: I liked being home. I hadn't been off work for that long in 10 years. So being able to wake up in your own bed every day and cook your own breakfast every day, that was cool. I enjoyed that process. Tried to give myself the space to enjoy, you know, my life. Living in the house that I bought instead of just being in a hotel. It's been very nice to be able to soak in the stuff that I had missed for the last 10 years of my wrestling career. This is how my morning goes. He sits here and begs for food while I play video games. Want a little egg? There you go. 
Seth Rollins While Playing  Video Games: Come on! Make a play! I get heated. I don't like to lose at anything ever. Fuck you man. Son of a B, Kevin. You want a little coffee? He loves it. When I lose, this is very depressing. Dang it, Kevin. This is your fault. It's all over, gentlemen. This is a terrible way to start my day. 
Seth Rollins: A lot of people ask me why I still live in Iowa. And like my friends and family still live here. So hanging with friends instead of just having passing conversations and, you know, spending time with family, I prefer that. I grew up in Buffalo, Iowa. It's a really small town outside of Davenport, right along the Mississippi River. There's no stop lights. Everyone gets their mail at a Post Office. I lived right next door to my gramma and grandpa. Maybe 1,000 people. Water Tower, all that good stuff. 
Holly & Bob (Seth's Mother & Step Father): By the time he was 18 months old, you could carry on a full conversation with him. He was doing things that were just  a little bit beyond the realm of comprehension, I thought. 
Don (Seth's Grandfather): He was one of the climbingest kids you've ever seen in your life. He'd climb anything. Just always on the go, go, go. I would grab him around his knees and he would go down and back up again. He'd do sit-ups. I never seen a kid do that when they are that young. 
Holly: He was really good in Basketball. He was good in Football. Mostly he excelled at Baseball. So he was excelling both academically as well as physically. 
Don: I'm taking pictures of Brandon. You're jumping. I ain't going to take a picture of you jumping like that. 
Brandon (Seth's Brother): We were about the same age and we had a lot of the same interests. What really made us bond, I think, after a while was wrestling. 
– Young Seth Rollins is trying to sing Ultimate Warrior's theme song.
Seth Rollins: I loved WWE since as long as i can remember. One of my favorite things was the wrestling buddies. I had a Hulk Hogan one and my brother had an Ultimate Warrior one. We would go to town on those things. I mean we would have full on matches in my Grandpa's living room with them. I used to wrestle so much that I had to go to a chiropractor when I was like 8 years old because I was like, ah what's wrong with me? Because my neck was all misaligned. But that was it for me. I knew that was what I had to do. 
Seth Rollins: All right. Can we eat this pizza now?  Let's introduce Taco Pizza. This is how you eat Taco Pizza. It has chips, onions, meat and of course, taco sauce baby. 
Brandon: The fact that he gets to spend time at home I think he appreciates that. It's also a chance to come home and spend time with friends and family. 
– Seth points out that his dog Kevin needs a bath.
Seth Rollins: Just having my friends there for me is just incredible. They are all friends at school and stuff like that in different grades. I enjoyed all of that. I remember we watched WrestleMania XIV like a billion times. And then from there, I don't even know how we started to come up with the idea that we would want to put on our own shows. 
Seth's Friend: It started like recreationally, we just started doing it for ourselves. And then that idea grew. Let's make this into a show. 
Seth Rollins: By the time I was, you know, 14, my mom had purchased me a trampoline 
Brandon: For all you fans of Colby Lopez, there he is. Oh, he got it. 
Seth Rollins On His Wrestling Federation: And we started trying moves on the trampoline. One thing led to another. And our cousins come on and friends come on. And next thing you know, we're, you know, putting on monthly wrestling shows in my dad's front yard in Buffalo. And then we start filming it. We had a full federation and cast of characters and entrances and music and tables and ladders and chairs. It was a lot of fun. 
Ron Lopez: They had several people borrow their parents' camcorders so they could film at different angles and the group was very well organized. 
Seth Rollins: One night in particular there was I believe a fireman's dance, a benefit for the local Buffalo Fire Department. And clearly, our show was a better form of entertainment than what was going on at the dance. 
Ron: So they started coming over with drinks in their hands. Police at the time, they came over and said, Ron, you're going to have to stop this wrestling match because the guests from the center are coming outside with drinks in their hands. 
Seth Rollins: They kind of had to move everybody back inside and make sure that, you know, they weren't wandering around with open containers n the streets of Buffalo, as dangerous as that sounds. 
Ron: They would always try to have it when something was going on at the community center because they were hoping that people would come over from the community center and donate in their little container. 
Seth Rollins: This is WWE Hall of Famer, Jake The Snake Roberts in a case. He was our donation box. We would pass this around and take some donations. I mean these pennies are probably from 2003 some of them. So yeah. He took some of these donations and I kept the the box as little memento. He collected all of our cash for us and then we would take that money and go down to the local restaurant on the river and have waffle fries and ranch dressing after that. We are here in my basement in my father's house in Buffalo, Iowa.
There is a lot of nostalgia in this room for me. Literally takes me and puts me back into my 14-15 year old self. So that's really strange to kind of be here and see all of it still and just all the little stuff on the wall. Even the terrible must in the room, the scent of it really puts me back into that time frame. It's strange. Yeah. We were weird kids. I moved down into my dad's basement. And that our hangout. We didn't go out and party, man. We hung out and talked a bunch of trash and ate a bunch of terrible food and watched wrestling and obsessed over it.
So Rob Van Dam was one of our favorite wrestlers when we were growing up. We probably made this terrible looking portal to RVD's place 15 years ago. We just thought he would be a cool dude to hang out with, you know, We thought he was awesome. He was the bees knees. I told Rob the story once about how me and my brother I snatched up a bunch of his t-shirts at a WWE Live Event. We were bad kid. We were not good kids. But Rob thought it was hilarious. If you come over this away, this was the logo for our wrestling company.
It was Extreme Hardcore Wrestling, EHW, if you can kind of see the faint outline with the blood dripping off because I was that was cool back in 2000 or something like that. We got a little ode to AL Snow. Not many kids can say they were big JOB Squad fans, but we liked Al. So there's a little help me ode to AL Snow. A lot of history in this room. And it's funny because you never know where dream start. But this little dump of a room is kind of where mine began. We were putting on these shows in our backyard and I just really — I was in love with it, man. There was nothing else I could see myself doing, you know. 
Brandon: I remember the specific moment when he told our parents that he wanted to be a Wrestler. He was going to do this Basketball Training Camp. And he said yeah, I want to go to this camp. But I don't want to play Basketball after that. They were like, why? He said I want to be a wrestler. 
Holly & Bob: We were pretty accepting, We were pretty supportive. Yeah. Because this is where he wanted to go. There was nothing that was going to change that. 
Don: He said I wanted to be a wrestler. He said it's what I want to do. And that's what I'm going to do. And he set his mind to do it. And he become a wrestler. We had a bout down in Muscatine at the Arsenal. He was about 19 years old and his person that he was going to fight was AJ Styles. And they had one of the best wrestling matches I ever seen in my life between the two of them. 
Seth Rollins: AJ was a guy who I loved for years and years and years. And I got a chance to wrestle him in front of, you know, basically my friends and family. 
AJ Styles: I remember thinking after the match like, holy cow, this kid is really good. And I could say kid because he was only 19. That's all I could think about was like this kid is literally gonna be a superstar one day. No matter where he goes. 
Seth Rollins: The match was fun. And afterwards he took the time to get on the microphone and say a few nice things about me. 
AJ Styles: This man just gave me the match of my life. He's the future of the business and he's 19. And well, I was right. 
Seth Rollins: That was awesome. And even better than that, I was on a show with AJ the next night. And after that show, we all went out to eat. I said, hey, let me get it. He's like no, no, no. Just do me a favor and pass it on. Him buying me the meal at the end just telling me to pass it on was just a great example I though of how to treat a guy, you know, who looked up to you and respected you and finally was getting the opportunity to work with you, which was for me a dream come true. So I learned a lot that weekend from AJ Styles. 
Sami Zayn: I was starting to hear about him as one of the newer guys. He was wrestling Kevin Owens in like 2006. He more than held his own right off the bat. 
Kevin Owens: As far as in-ring moves and just the athletic side of wrestling, he was very talented. From the moment I met him, it was clear that, you know, he planned on doing this for as long as he could. 
Cesaro: Certain things definitely came natural to him and the stuff that didn't he worked extremely hard on. You see it in the ring today every day. It's just unrefined and raw back then. 
Austin Aries: You could tell just when you saw him in the ring that he had so much potential and was going to do some big things in the business. It was just getting the whole complete package to come together and that's just a matter of experience and getting in there with guys as good and and better than you are. 
Seth Rollins: I wanted to spend time working with those guys who had that wealth of knowledge and all had that experience that I just wanted to soak up like a sponge, you know, Daniel Bryan, Austin Aries. I got to work with Sami Zayn. I got to work with Cesaro. The list goes on and on. That was a learning experience that prepared me to come to WWE and to get myself where I wanted to be. 
Seth Rollins: I wanted to rebuild the whole thing, the whole process, the whole me mentally, physically, and emotionally. I just wanted to be prepared for this time around. Maybe being a little less reckless, maybe growing up a a little bit. But just wanted to rebuild me. Not just my knee, everything. The whole package, the whole Seth Rollins package. 
Seth Rollins: Something very peaceful about an empty gym. No one in here. And it gives you a lot of time to kind of be with yourself and just think about I guess life, coming to terms with your injury and your time off and, you know, disappearing for a while. It's not easy. In a strange way, this was the universe setting me up for a big 2016. It's going to be a good year, I think. 
Seth Rollins: Right now we're 13 weeks out from surgery for me for my knee. The first couple of months, very tentative. Still a lot of pain, a lot of swelling. Mobility was coming slowly, but surely. Wasn't a whole lot of confidence in the knee. And then, all of a sudden, you know, the last three weeks, the last month or so has really been just like a rocket. I haven't moved that much weight in a hot minute. From the day I got hurt, WrestleMania was always my goal. I would love to be out there in Dallas in front of 100,000 people, biggest WrestleMania of all-time. Whatever you guys saw today. That's me going 100% We're getting very close to starting to put together all the elements of what I need to be, the Seth Rollins that I used to be. 
Seth Rollins: So I just finished up workout, Monday Morning, Monday Afternoon, Whatever. And I checked my phone and I got a text that Daniel Bryan is announcing his retirement tonight on Raw. 
Jonathan Coachman: Daniel Bryan did tweet this today. Due to medical reasons, effective immediately, I am announcing my retirement. Tonight on Raw, i'll have a chance to elaborate. #grateful. 
Seth Rollins on Daniel Bryan's Retirement: When it hit, it was just like a tidal wave, man, just crashed down on you. Someone who was an idol of mine, a hero of mine, just not only as a performer in the ring, but as a human being, an all-around incredible person, you know, that really hit close to home for me because Bryan's story was similar to mine. It's terrifying for a guy like me who wrestles a very similar style to Bryan. That could happen at any second.
It leaves you thinking to yourself, have I wrestled my last match? Things can just slip through your fingers just like that. In a business where it's very difficult to stop and smell the roses, sometimes you really have to take the time out to appreciate what you have and what you have done and what you have accomplished. If you take it for granted, I don't think you really have the time to appreciate exactly how cool some of the stuff we get to do really is. Certainly, something that I know I won't take for granted moving forward. 
Seth Rollins: Today I'm going to have a full workout, man. Try not to tax out my legs too much. But i'm going to get in a full sweat and breathe heavy and try not to pass out. We're close. We're very, very close. Look who's here. What's happening, man? The man of the hour. 
Dr. Dugas: Looking good. 
Seth Rollins: Feeling Good. Feeling Great. 
Dr Dugas: Did you get in last night? 
Seth Rollins: Yeah. Got in late last night. 
– Rollins jokes around with Cesaro in the medical room.
Seth Rollins: The month after I got hurt, Cesaro also went under the knife and had his shoulder repaired. So it was easy for us to confide in each other and talk about how things were going and everything like that. Yeah, it's coming back, slowly, but surely. 
Cesaro: Checked up on him like after surgery, the day of. And we've been in contact ever since. 
Seth Rollins: Very helpful for me as far as stay motivated and stuff like that. 
Dr. Dugas: So we're what now? Six months? 
Seth Rollins: Strength and endurance was close. Closer than he thought. I had been working real hard at that point. Really trying to maximize the time that I had to, you know, get the strength back in my quad. 
Dr. Dugas: That's what i'm talking about. Your quad strength is doing great. So, you know, basically when you pass the test, when you get your side to side good, then we'll start working on functional stuff. That's when I would say it's fine to get back here and get in the ring and start doing some stuff. And that may be sooner than you think. But we've got to test you. 
Seth Rollins: He basically said we're looking at maybe two months or less from now. So I take that as a challenge. He said that no one has ever passed the biodex test in four months. So that definitely gives me something to shoot for. 
Dr. Dugas: He has done great. And I don't want to discourage him by telling him that honestly I don't think he'll pass the test. 
Seth Rollins: I go take what's called the biodex test where they measure the strength and endurance in individual legs. They strap a single leg down. And then you have to basically extend and flex your leg really hard and really fast in a couple of different cycles. It was terrible. It was rotten. Yeah that sucked. That was miserable. It was like you were strapped into an electric chair and they were buzz, buzz, buzz. The biodex revealed that my right leg is about 20% weaker than the normal left leg. So they are talking about getting back to competition level would be somewhere under 10%, so I have got to work on getting 10% stronger on that right side. 
John Cena: It's a more difficult injury which is why it's taken him a long four and a half months to be here. Right around now is when WrestleMania was coming. He was told you're going to miss it. And I had a candid discussion with him like, dude, trust me. You're one of the best guys we've got. This isn't your last one. You're going to be at WrestleMania XLII. 
Seth Rollins On Missing WrestleMania 32:
 After I took the biodex test, I mean I knew I had 20% to catch up to, but I didn't know exactly what that entailed as far as what the workload would be. So in my very stubborn frame of mind, it didn't matter if it was 20% or 30% or 60%, I was going to make it up one way or another. And, you know, as the days started slipping away, started to become apparent that it was probably a little too late for this WrestleMania. So that was a little frustrating and difficult. That was the main goal, the big goal for me. That and winning the title back. So now i've only got one thing left. So that was a tough bullet to bite. But that's the nature of the beast, you know. Life doesn't always work out how you want it to.
No one wants to miss WrestleMania. I don't want to miss WrestleMania. This was the biggest WrestleMania of all-time. Yeah. Not being part of that WrestleMania is frustrating. Knew this was going to happen. Just in the off chance that something did happen, I  could be excited for WrestleMania. On the other hand, here we are and I'm just ready to get it done and get it over with and get out of here. The last couple days have just got flooded with memories of a year ago.
Man, when you're standing at the end of WrestleMania holding up the World Heavyweight Title and this year you're not even on the show and it's the biggest WrestleMania of all time, it's extremely humbling and a little depressing as well. It will be fine to hang out and talk to some of the guys that I haven't seen in a while and stuff like that. So that will be cool. But yeah, I'm hoping to get this weekend done and over with as quick as possible. I still have a lot of friends down there and stuff like that, so I try to keep tabs on what's happening at the top of the card. 
Sami Zayn: He never got a big head and big league people. Like he kind of kept tabs on me when I was in NXT and would hear if I had good matches. And he would check up and see how things were going. And he was genuinely interested in NXT. That's one thing about him. He sticks by his friends. 
Seth Rollins: It is nice to be around my friends that I haven't seen in a while. Their support was pretty awesome so they were cool, very helpful. For me as far as staying motivated and stuff like that.
– Rollins hughs Vince McMahon and Triple H.
Triple H: How are you? Feeling Good? Sorry, I just gotta say hi real quick. 
Seth Rollins: No, No, No, it's fine. Got about another three-four weeks. Somewhere in there. Whenever you want me, I should be good to go. 
Triple H: I think the sooner the better.
Seth Rollins: All right, word up. 
Nikki Bella: Seth Rollins is looking hot over there. 
– Rollins is signing autographs at WrestleMania Fan Axxess.
Seth Rollins: A lot of people asking when and trying to get in on the details and stuff like that. But we're a little ways off yet, so next is WrestleMania, man. Get suited up and go to WrestleMania and check out the show. 
Renee Young: The clock is ticking down as we get set for WrestleMania. 
Kevin Dunn: Three, two, one. 
Michael Cole: You are looking live at the AT&T Stadium in Dallas, Texas! A record crowd of over 100,000 expected for WrestleMania. Reigns Is The WWE World Heavyweight Champion. 
Seth Rollins: Fuck it. I've gotta get out of here. I hated being there. Not being able to, you know, be a part. It was very frustrating. Knowing where I ended up, WrestleMania Silicon Valley and not being on the show at all, I helped build that thing. It just ate me alive. I was headlining the shows every single night, being the guy that put company on his back, going out there every night and giving, you know, the performance the fans came to see. And I want that.
That's what I want. I want to reclaim that. And if there's anybody out there that's doubting that I can come back and be that guy again, I want to erase that from my mind. From everybody else's mind because I want to reclaim not only my championship, but the top spot. And that's really important to me. I don't want to come back and just be another guy, you know, kind of swimming around. And I don't ever see myself that way. Nothing left to do but to get out there and make it happen. 
Seth Rollins: Now, mind you, it's about six weeks post WrestleMania here. And I always said that if WrestleMania wasn't going to be possible for me, then I would like to come back the biggest way I can. And it looks like that could be Extreme Rules. That means I've got to head down to Orlando to the Performance Center, work with the medical staff down there and see if my knee can hold up. They put me through the wringer man. They wanted to make sure I was 100% as well as I wanted to make sure I was 100%, too. Bumping is the worst.
At home it's the grind because you don't know when. You're waiting. And now being here in the Performance Center, you really feel like there's a purpose, like a direction. You've really got that goal. So I obviously want to be 100%, but at the same time i'm pushing it a little bit more than I would if I was just by myself rehabbing. It's the competing which is what I feel like this it. It's different than practice. 
You know there's a lot of kinks and scar tissue and just weird stuff going on inside there. That knee is trying to figure out what it's supposed to do again. I've got to get it all in and make sure i'm right where I want to be, 100% no questions asked. Of course, being me, i've got to try everything. Getting down and getting up ain't a problem. It's the landing like directly on the knee. Like that freaks me out. And jumping and doing that freaks me out. Like right now if you asked me to Pedigree one of these guys, no way. It's terrifying. Fuck it I guess, that's my motto for the day. 
You know, the knee still feels weird when you kind of put pressure on it. It's just a confidence thing. The last thing I want to happen is for my knee to not work and get injured again and be out longer. And so my ideal scenario is that I come back 110%. So went through all the tests, got one final evaluation this Sunday before Extreme Rules. So at this point, there's really not much else left to do but get on an airplane and get myself to New Jersey and hide out. Hopefully Sunday is the ticket. 
Seth Rollins: Hold on a minute. We've got a lot going on in this leg here. I'll roll that down for you. There you go. I did a lot more than I thought I could do when I was in Orlando because I hadn't done anything in six months. 
– Rollins gets cleared by the WWE Medical Team.
Michael Cole:  You are looking live at a sold-out Prudential Center in Newark, New Jersey for Extreme Rules! 
Seth Rollins: I'm waiting for like to feel real, to really like feel like, all right, here we go, it's time, you know. So i'm kind of waiting for that moment to kick in. Starting to get the nervous energy a little bit. You're like what if it's not what it could be. You know what I mean? Like what if I go out there and it's, oh, okay, there's Seth Rollins? So we have the Cage Match, The Girls and The Main Event left? Oh shit, i'm going to start getting changed. 
– Rollins makes his way to the Gorilla Position. Rollins drops Roman Reigns with a Pedigree after his Extreme Rules Match with AJ Styles. 
Seth Rollins: You know, it was a hug rush. I really had to contain myself for a second. But I hit the ring fast, man. Felt like WrestleMania, man. It really did. Adrenaline just kicked in. Didn't feel a thing in the knee. So I mean it was wow. 
Michael Cole: Oh my god! Seth Rollins is back! A Pedigree to the champion! 
JBL: Right when you thought you've seen it all. 
Seth Rollins: Tonight it was just about making a statement, you know? It's a press conference in 30 seconds, just telling the world, hey, i'm back. I want to be the best ever, so got a long way to go. But tonight was a good moment to catapult us to that next step. 
Michael Hayes: Felt good? 
Seth Rollins: Been a while, man! The eight months that I was champion before, that was the old Seth Rollins. And now after the, you know, redesign and the rebuild this is the new, Seth Rollins. And we're moving in a different direction. I know what I want. I know how to get there. And I think that i'm going to be better off having taken the time to put myself mentally and physically back together and be stronger because of it. It felt real, man. It feel big. One step at a time. The wheels are rolling, through. 
Now I can look back at the experience and say it helped me in a weird way. You progress. And if you don't, then you are just waisting time. And i'm not one to waste time. No one wants to be on the sidelines looking in. And I don't wish it up anybody or when I have to do it again. But certainly, you learn. 
Kevin Owens: The life-long passion, you can't teach that. 
Byron Saxton: The era of Seth Rollins has begun. 
Sami Zayn: Fans genuinely appreciate how hard he works. Not only the passion but the honesty he works with. 
Holly: I'm really proud with not only what he's doing with his life, but the kind of person he is. 
Don: He's a very dedicated young man that's going to do what he sets out to do. 
Seth Rollins: There are a lot of fears and doubts. You wonder if they were going to forget about you, worry about where you fit in. This is all I loved and all I ever dreamed of my entire life. I walk around and people still call me champ. I don't care when it is or where it is. It's going to be a huge moment because it's my moment. I'm very much looking forward to taking back my title.